Camping is available at Let's Rock Exeter for those wishing to stay over on the Saturday night. Toilets and free showers will be provided.
The campsite will be open from 9am on Saturday 29th June until midday on Sunday 30th June.
VEHICLES ARE NOT PERMITTED IN THE CAMPSITE AT ANY TIME. ALCOHOL MAY BE BROUGHT INTO THE CAMPSITE BUT NOT THE MAIN ARENA. SMALL GAS CAMPING STOVES ARE ALLOWED IN THE CAMPSITE ONLY. BARBECUES, DISPOSABLE BARBECUES AND OPEN FIRES ARE NOT PERMITTED AT ANY TIME YOU ENTER THE CAMPSITE, FESTIVAL SITE AND CAR PARKS AT YOUR OWN RISK. THE ORGANISERS, AND THEIR AGENTS, SHALL NOT BE HELD LIABLE FOR ANY LOSS, DAMAGE OR INJURY OF ANY KIND.
Campervans, caravans and trailer tents are not permitted.
CAMPLITUDE RETURNS TO LET'S ROCK EXETER – ON SALE NOW!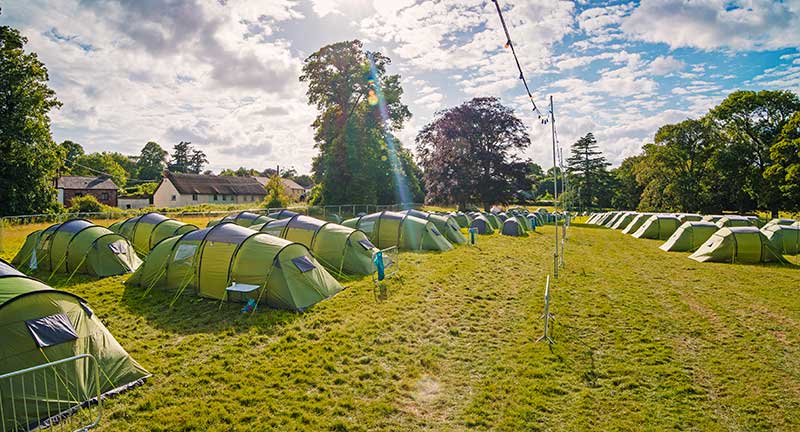 Leave your camping gear at home and book your ready pitched tent. Choose from our fantastic 2, 4 or 6 person tents. Plus optional extras such as sleeping bags and double air mattresses. Perfect for your family, or for you and your friends.
You will also receive your own personal Camplitude goodie bags full of helpful festival gear, including ear plugs, rain poncho's and much more. All to better your festival experience.
Our goal, is for you to have the best possible weekend without the hard work of camping. All you have to do is book, move into the tent, and start you festival weekend.
PLEASE BOOK YOUR TENT WITH CAMPLITUDE BY VISITING HERE
Please ensure you have a weekend camping festival ticket before booking.
For further details, please visit www.camplitude.net